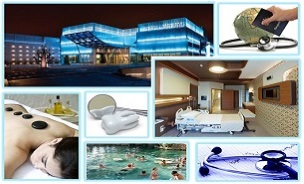 We work as a travel agency during pre-treatment, treatment and post-treatment process for patients and their relatives who come from abroad for the treatment with health services offered in hospitals, medical centers and thermal facilities.
We offer also alternative vacation options for everybody who wants to benefit from Turkey's thermal facilities.
It is time to stay healthy and enjoy the thermal holiday!
City

Specific region

ph

Temperature (Celcius)

Water content

Treatment

Ankara

Kızılcahamam

6.52-7.6

37-47

contains sodium, calcium magnesium, bicarbonate and chlorine

It's good for drinking and bathing benefiting the treatment of rheumatism, neuralgia, gynecologic and digestive disorders.

Afyon

all

6.4

49

rich in carbon dioxide, sodium bicarbonate, sodium chloride, bromide and fluoride.

The water has beneficial effects on arthritis, sciatica, disc hernia, neuritis, neuralgia, lumbago, osteoarthritis, and is also beneficial after orthopedic surgery and various other surgical treatments, such as post-operative therapy. Patients with skin ailments like psoriasis, eating problems, stomach, intestine and gall bladder, kidney, urinary tract and gynecologic disorders, and muscle and nerve fatigue also benefit from it. The composition is good for balancing the iron ratio, and has rehabilitation value in the treatment of hemiplegia.

Bursa

Çekirge

6.6-7.2

47-78

contains bicarbonate, sulphur , sodium, calcium and magnesium.

It's suitable for drinking and bathing cures, and are beneficial for rheumatic, gynecologic and dermatologic diseases, post-operational problems and for the metabolism.

Bursa

Oylat

3.04-7.26

40

contains sulphur, bicarbonate, calcium,

hydrogen ions and iron.

With diuretic properties, the drinking and bath cures have a relaxing and sedative effect.

Denizli

Pamukkale and Karahayıt

5.98-6.26

42-56 radioactive

contains hydro carbonate,

sulphur, calcium,

carbon dioxide and iron

suitable for drinking and bathing helping heart and circulatory complaints as well as digestive, gall bladder, rheumatic and kidney diseases

İzmir

Balçova

6.4

62

contains bicarbonate, calcium

and magnesium

suitable for drinking and bathing, benefiting sciatica, rheumatic diseases, gynecologic, orthopedic and nervous disorders, plus intestinal and urinary problems.

Inflamatuar rheumatic disease (Romatoid Artrit, Ankilozan Spondilit, Psoriatik Artrit, Kollajen tissue)

Dejeneratif joint disorders

Rheumatic Muscle and Soft Tissue disease (Fibromiyalji, Periartrit, Tendinit, Bursit, Epikondilit etc)

Spinal disc herniation, also known as a slipped disc and neck hernia

Bone and metabolism disease (Osteporoz, Paget Hastalığı, Gut etc)

Orthopedic and neurological rehabilitation

Sport Injury and rehabilitation

Sivas

Balıklı

7.3

36

contains bicarbonate, calcium

and magnesium

The uniqueness of the baths comes from the fact that there are many small fish (2-10 cm long) in the water that play an important part in the cure of psoriasis. The waters are also beneficial for rheumatism, skin diseases, arterial sclerosis and gynecologic complaints.

Yalova

all

6.88-7.48

57-60

contains sulphur, sodium

and calcium

drinking and bathing cures beneficial for rheumatic, gynecologic, urinary and nervous complaints and controlling cholesterol and lipid levels.